Doesn't life seem so much rosier when the sun is shining? All those rainy and grey days made me fall into a bit of a low bubble. It's hard to be positive when it's dark when you wake up and dark before you leave work. Now it's light in the mornings we've started to leave the blind open in the bedroom so the sun can come in through the curtains.
During the summer we have to have the blackout blind down because the sun streams right into our window from 5am, which lovely as it is, is not what I want when I don't have to get up until after 7! I've really been struggling to get up in the mornings lately and I'm hoping that by letting the sun come in, I'll start to wake up naturally rather than always being shocked awake by my alarm. I'm not sure it's working yet though! I just seem to be more tired because I'm not sleeping through but waking up earlier and dozing. Grrr! Not sure what the answer is.
Lots of lovely crocuses on the way to work.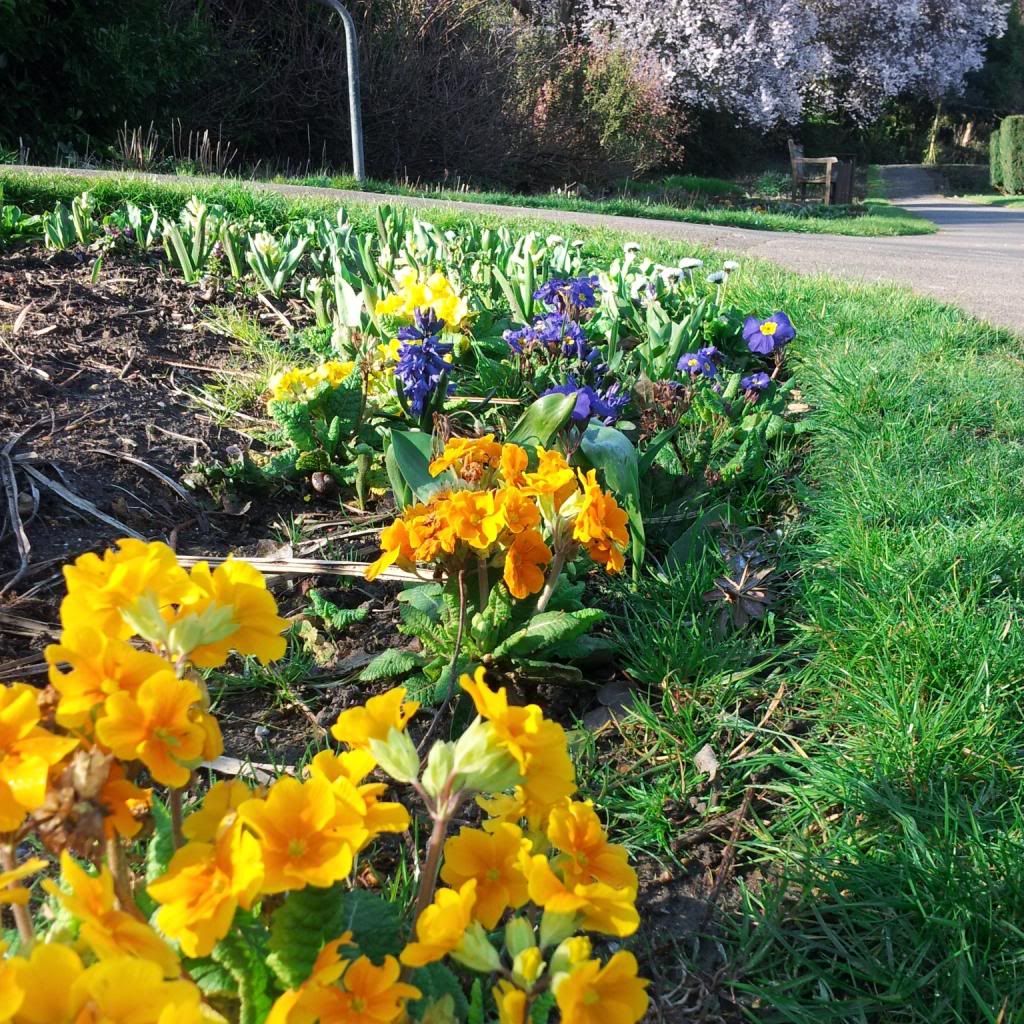 I took a little de-tour through the park.
Here comes the sun?
I'm a bit disappointed this so-called 'heatwave' hasn't actually happened. But then, back in November they said it was going to snow for three months solid and all it did was rain, so I can't say I'm particularly surprised! The weekend was lovely and warm, especially outside the in-law's house. It's a right sun trap and it's lovely to sit out on their front wall with a cuppa. I'm looking forward to the days when I can happily leave the house without a coat and know I'm not going to regret it. Monday I wore my gilet, which was actually fine on the way to work but in the evening the wind picked up and my arms were freezing!
Plans for a weekend away
At the weekend we booked our trip to Bristol to celebrate our first wedding anniversary! I'm really looking forward to it. If anyone has any suggestions of places to visit while we're there, I'm all ears. We're arriving Saturday early afternoon and leaving after lunch on Monday. I'm thinking of spending Monday in Clifton and would really appreciate lunch time dining recommendations. Our actual anniversary is on Sunday and I've already booked Sunday lunch at the Glassboat restaurant. We'd love to be sat by the window so we can enjoy the view with our meal. Saturday night we'll be eating in the hotel (the Thistle Grand Hotel) because we've booked a package. How mad is it that I seem to have planned this trip around eating! Well we do love our food. 🙂 We're going away at the end of April, not long now!
We're over hump day now, so that means it's nearly the weekend! Enjoy the rest of your week lovelies.
Rachel x